The in water SIGNATURE CHAIR from LEDGE LOUNGER allows you to sit up and enjoy the the view with its high back and lumbar support. Unlike their famous In-Water Chaise which rests your body in a horizontal position, the Chair sits you upright while you enjoy the shallow waters. This chair offers supreme comfort and functionality. Whether you want to sit on the pool's ledge, deck or even on the sandy beach, the Signature Chair is the perfect upright seat to chill in. Made with the same high quality resin materials and contemporary aesthetic as the other Ledge Lounger products, the Signature In Pool Chair upgrades the poolside experience with more ways to soak up the rays.
WATER DEPTH:
This Signature Chair is designed for use in water on ledges from 0 to 9 inches deep.
DIMENSIONS:
If you prefer to kick up your feet and recline horizontally, try relaxing instead on the Ledge Lounger Signature Chaise.
Designed for use in up to 9" of water or on any dry deck

Perfect for residential or commercial use

Built to withstand sun, weather, and chemicals of any aquatic environment

Compatible with all pool types, including vinyl

Crafted of an ultra-strong, UV16 rated resin, color stabilized for up to 16,000 hours of direct sun

Excellent lumbar support in seated, upright position

Effortless repositioning

Available in 11 colors *Orange and Red available for outside of pool use only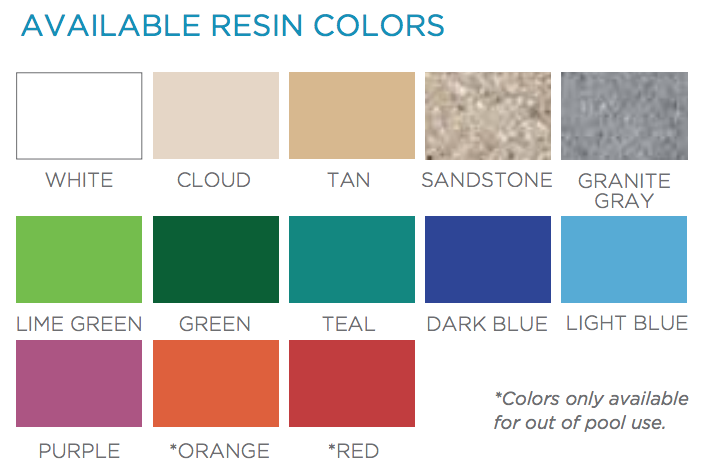 Available Accessories:
Ledge Lounger® products are made to last and are backed by a two-year warranty against defects in material and workmanship. Proof of purchase is required. This warranty applies only to the original owner. This warranty is void if the products are structurally altered or subjected to stress beyond the physical limits of the materials used in body or components, or is damaged as a result of abnormal use. Normal wear and tear is not warranted. This warranty does not include any manufacturer responsibility for any incidental or consequential damages resulting from the use of the products. Here is how to get your Ledge Lounger warranty claim reviewed: 1) Submit a warranty claim by contacting our BOTANIK customer service teams at 713-364-9669, or by emailing info@shopbotanik.com. Please include your name, invoice number, contact information, pictures and a description of the problem. 2) Ledge Lounger will review the claim and repair or replace, at our option, any product determined by Ledge Lounger to be a manufacturer's defect.