Our top selling SIGNATURE CHAISE
This tanning ledge accessory changed the swimming pool industry when it arrived on the scene and since its introduction, given reason for pools to include shallow baja ledges and sun shelves. For all the right reasons, these in-pool chaises have become fixtures across the United States. Many of the finest resorts around the world with luxury pools enjoy its comfortable signature S curve design.
Each SIGNATURE CHAISE provides your body with a contoured, comfortable place to relax on your tanning ledge or Baja shelf with just enough water contact to keep you refreshed. Each is made from a durable and color-stabilized material that withstands the harmful sun rays and chlorine abuse.
HOW TO MEASURE YOUR LEDGE DEPTH
Place the starting edge of your ruler on the tanning ledge surface. Where the waterline hits the ruler is your water depth. Always measure when your pool is at ideal water capacity.
4" - 9" = IDEAL DEPTH - The perfect depths for in-water relaxation.

9"+ = Not Recommended without the use of a RISER ADAPTER ACCESSORY
9" - 15.5" = Acceptable Riser/Accessory Adapter water depths;

With

Adapter/Riser the Chaise is NOT recommended in water over 15"
If you have a deeper ledge with 10 to 15 inches of water, opt for the Signature Chaise Deep instead as it will keep you just wet enough to enjoy those fun pool moments and stay anchored on the shelf. With a Riser Adapter the Chaise Deep can work in water depths up to 20".
Each chaise is quickly set up right out of the box and you can read our blog post for specific instructions. Simply submerge them into your pool to let them fill with chlorinated water, and pull them onto the ledge — quick steps for an indulgent sunbathing experience.
FEATURES
Designed for residential or commercial use

Signature Chaise is designed for up to 9 inches of water

Crafted from ultra-strong polyethylene

Color-stabilized for up to 16,000 hours of sun (UV16 rating)

Resistant to harsh chemicals and weather

Safe for vinyl pool ledges

Contoured to support the body

Easy to empty seasonally to store over winter (in cold climates)

Effortless repositioning

Available in 11 colors to blend or compliment your pool finish



SHIPPING

QUICK SHIP COLORS:White, Granite Gray, Sandstone, Cloud, Light Blue, Dark Green - 3-10 business days
Dark Blue, Lime Green, Purple, Tan, Teal - Typically are fabricated upon order and will ship approximately 1-3 weeks from order date.
FREIGHT: $69/per chaise - Delivered via FED EX or FED EX Freight
DIMENSIONS:
70" L x 23" w x 22" h x 7.5" clearance beneath legs
ACCESSORIES FOR THE SIGNATURE CHAISE
Signature Headrest Pillow
The Signature Chaise Cushion is available for comfort when using the chaise out of the water and features a built in headrest pillow.
Signature Chaise Shade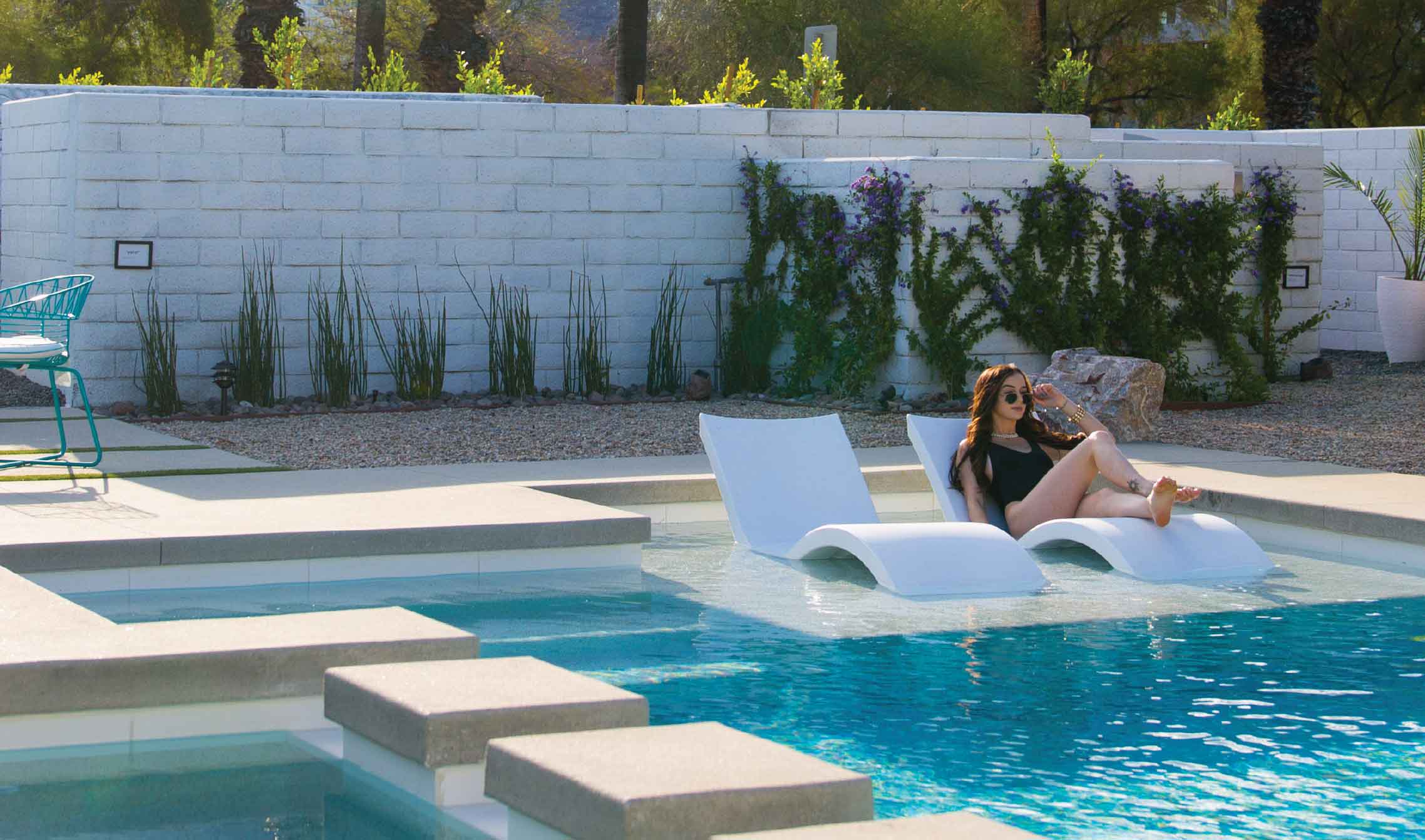 Ledge Lounger® products are made to last and are backed by a two-year warranty against defects in material and workmanship. Proof of purchase is required. This warranty applies only to the original owner. This warranty is void if the products are structurally altered or subjected to stress beyond the physical limits of the materials used in body or components, or is damaged as a result of abnormal use. Normal wear and tear is not warranted. This warranty does not include any manufacturer responsibility for any incidental or consequential damages resulting from the use of the products. Here is how to get your Ledge Lounger warranty claim reviewed: 1) Submit a warranty claim by contacting our SHOP botanik customer service team at 713-364-9669, or by emailing info@shopbotanik.com. Please include your name, invoice number, contact information, pictures and a description of the problem. 2) Ledge Lounger will review the claim and repair or replace, at our option, any product determined by Ledge Lounger to be a manufacturer's defect.
2 Reviews
I got two of the chase loungers. These are just as advertised. Great, solid loungers.

These are 100% awesome and look great in my pool. So good I'm gonna buy 2 more! You can't go wrong with this pool accessory