Set your pool ledge apart with a SIGNATURE ROUND SUNBED in lieu of or in addition to the traditional chaises found on many tanning ledges and baja shelves. This Daybed was originally designed to be used exclusively for a luxury hotel, but now you can create a unique space for groups to enjoy the shallow pool waters together.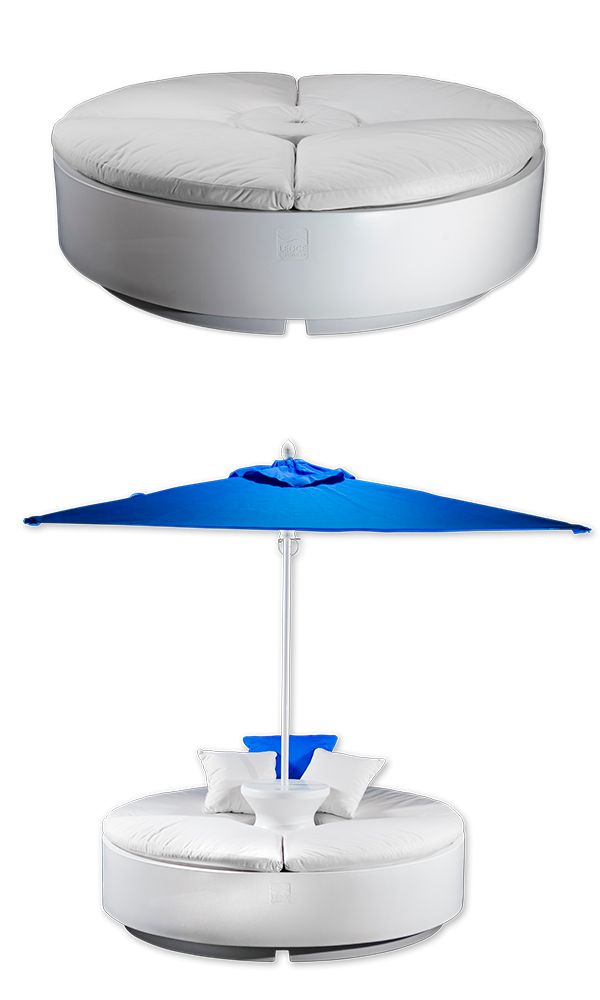 Rotational molded from long-lasting and color-stabilized material, the Round Island style piece features a modular cushion so you can add an Umbrella to its center to give all beneath some shade. The removable 4" thick pie-shaped top cushion, made from marine-grade Sunbrella fabric, makes relaxation comfortable and storage and cleaning simple.
Once the Island is fully set up, it will stay put so you and your guests can mix and mingle as long as you want.
Base shown without cushions
WATER DEPTH
The Circular Daybed is designed for use in water up to 12 inches deep on your shallow tanning ledge, and also works great on the deck, patio, or any outdoor environment.
FEATURES AND SPECS
Perfect for residential or commercial use

Crafted from ultra-strong polyethylene

Resistant to harsh chemicals and weather

Safe for vinyl pools

Easy to use, clean and store

4-inch marine-grade Sunbrella cushion

Island base color-stabilized for up to 16,000 hours of direct overhead sunlight (UV16 Rating)

DIMENSIONS: 72" ROUND X 18" H

WEIGHT EMPTY: 120 lbs

WEIGHT FULL: 1142 lbs
WEIGHT:
Sunbed - 120 lbs dry/ 1142 lbs full of water
DIMENSIONS:
72" Round x 16" High + 2" Cushion Height
PILLOWS:
Cushions Included | *Pillows shown in photos are not included in base price
Ledge Lounger® products are made to last and are backed by a two-year warranty against defects in material and workmanship. Proof of purchase is required. This warranty applies only to the original owner. This warranty is void if the products are structurally altered or subjected to stress beyond the physical limits of the materials used in body or components, or is damaged as a result of abnormal use. Normal wear and tear is not warranted. This warranty does not include any manufacturer responsibility for any incidental or consequential damages resulting from the use of the products. Here is how to get your Ledge Lounger warranty claim reviewed: 1) Submit a warranty claim by contacting Botanik customer service team at 713-364-9669, or by emailing info@shopbotanik.com. Please include your name, invoice number, contact information, pictures and a description of the problem. 2)We will review the claim and repair or replace, at our option, any product determined by Ledge Lounger to be a manufacturer's defect.