Comfortable and as stylish as the original Chaise, the SIGNATURE CHAISE DEEP is designed for deeper ledges with 10 to 15" of water. It is suitable even on your deck if you'd rather them stay dry. Made from the same durable and color-stabilized material as the original Chaise, this supreme lounger delivers sleek style in a weather-resistant form. As easy to set up as the Chaise, all you have to do is simply submerge it into your pool to let it fill with water and pull it onto the ledge. Give strong consideration to the Headrest Pillow option so you can sit back and relax under the sun.
The chaise weighs 51 pounds when empty, but filling it with pool water increases the weight to 264 pounds, giving it the perfect stability to stay in place even during the unpredictable weather of summer.
One bit of advice for your sun or baja shelf furnishings. Stay clear of the metal Ledge Lounger Alternative and knock offs. You deserve the best.
FEATURES AND SPECS
Perfect for residential or commercial use

Designed for 10" - 15" inches of water

Crafted from ultra-strong polyethylene

Color-stabilized for up to 16,000 hours of sun (UV16 rating)

Resistant to harsh chemicals and weather

Safe for vinyl pools

Contoured to support the body

Easy to use, clean and store

Effortless repositioning

Available in 11 colors -

*Orange and *Red are for out of pool use only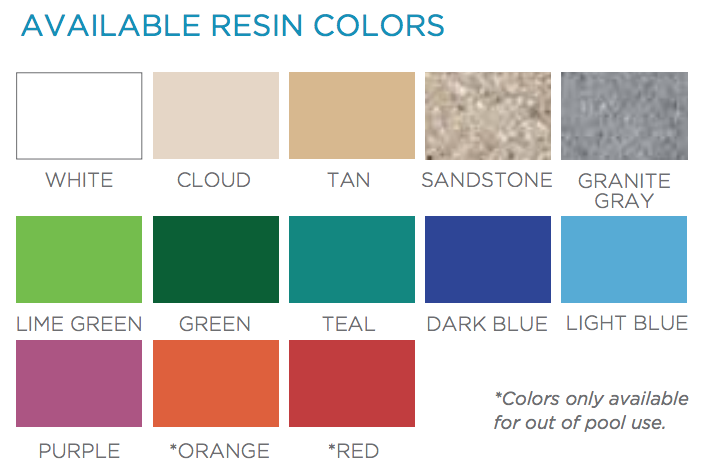 STEP 1: Measure the depth of your tanning ledge to determine what product is right for your pool. This one is made for 10"-15" of water depth.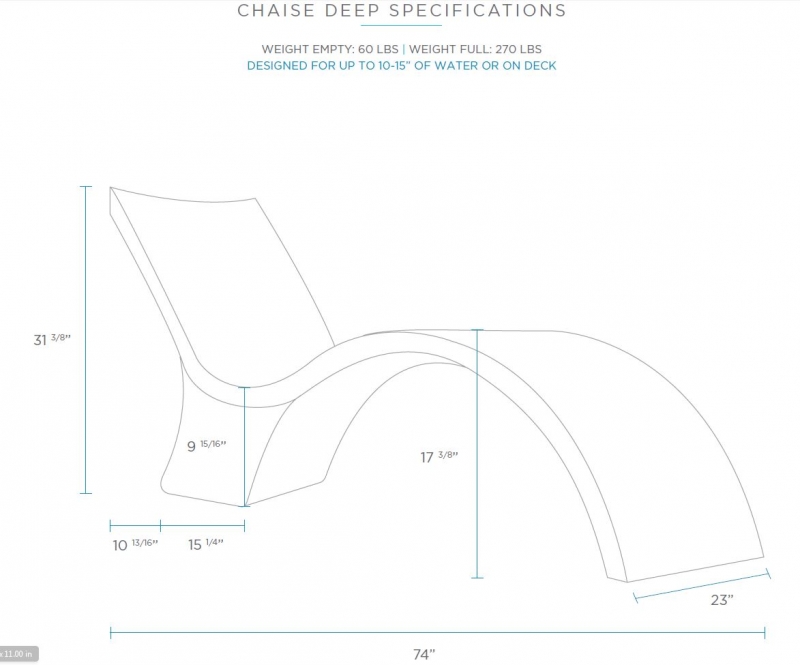 Downloadable Instructions: Cleaning and Care PDF
Signature Chaise Shown in some images with Optional SunShade
Signature Headrest Pillow also available as an option made with Sunbrella fabrics (selection below); but sold separately

Signature Cushion available; but sold separately (click link)
Ledge Lounger® products are made to last and are backed by a two-year warranty against defects in material and workmanship. Proof of purchase is required. This warranty applies only to the original owner. This warranty is void if the products are structurally altered or subjected to stress beyond the physical limits of the materials used in body or components, or is damaged as a result of abnormal use. Normal wear and tear is not warranted. This warranty does not include any manufacturer responsibility for any incidental or consequential damages resulting from the use of the products. Here is how to get your Ledge Lounger warranty claim reviewed: 1) Submit a warranty claim by contacting our Ledge Lounger customer service team at 347.875.0356, or by emailing info@ledgeloungers.com. Please include your name, invoice number, contact information, pictures and a description of the problem. 2) Ledge Lounger will review the claim and repair or replace, at our option, any product determined by Ledge Lounger to be a manufacturer's defect.