No need to get up for a beverage once you are in the pool with your beverages of choice within arms reach in the side table.
Featuring a 360 degree drink ledge its functional without a lid. With a lid, there is a spot for your drink, music player and other personal items to rest
Made from color-stabilized material, this Ice Bin Side Table is designed for in-pool or on deck use.
WATER DEPTH RATING
Designed for use in water up to 15 inches deep
Pair it with an optional LID ($99) to cap off the table and keep the drinks cool and give you a larger top surface for your reading materials.
The table base itself features an umbrella hole in its base so you can pair it with an Umbrella
and keep the drinks cool and your face out of the sun!
WEIGHT EMPTY: 18 LBS | WEIGHT FULL: 175 LBS
FEATURES AND SPECS
Holds up to 12 drink cans
360 degree drink and accessory ledge
Built in Umbrella Sleeve in bottom
Crafted from ultra-strong polyethylene
Color-stabilized for up to 20,000 hours of sun (UV20 rating)
Resistant to harsh chemicals and weather
Safe for vinyl, fiberglass and plaster pools
AVAILABLE IN 8 COLORS
UMBRELLA HOLE SHOWN THROUGH BOTTOM
SIDE TABLE DIMENSIONS: 20" h x 22" w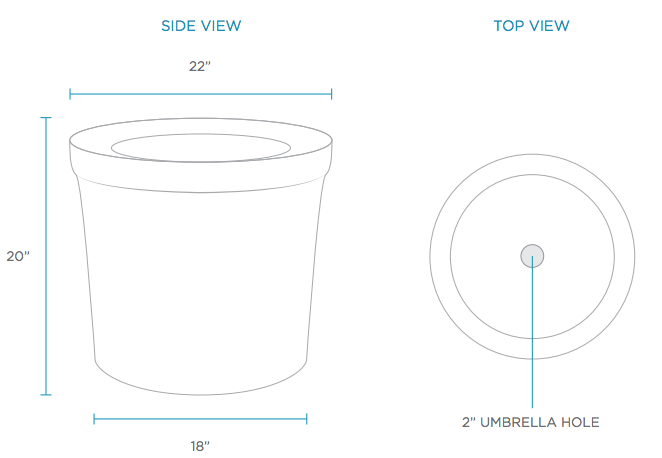 Note: If your pool's tanning ledge

does not

features an umbrella sleeve built-in for added stability, this table is not recommended for use with any Octagon umbrella larger than 7.5' or 6.0' Square
Ledge Lounger® products are made to last and are backed by a two-year warranty against defects in material and workmanship. Proof of purchase is required. This warranty applies only to the original owner. This warranty is void if the products are structurally altered or subjected to stress beyond the physical limits of the materials used in body or components, or is damaged as a result of abnormal use. Normal wear and tear is not warranted. This warranty does not include any manufacturer responsibility for any incidental or consequential damages resulting from the use of the products. Here is how to get your Ledge Lounger warranty claim reviewed: 1) Submit a warranty claim by contacting our BOTANIK customer service teams at 713-482-1149, or by emailing info@shopbotanik.com . Please include your name, invoice number, contact information, pictures and a description of the problem. 2) We will review the claim and repair or replace, at our option, any product determined by Ledge Lounger to be a manufacturer's defect.