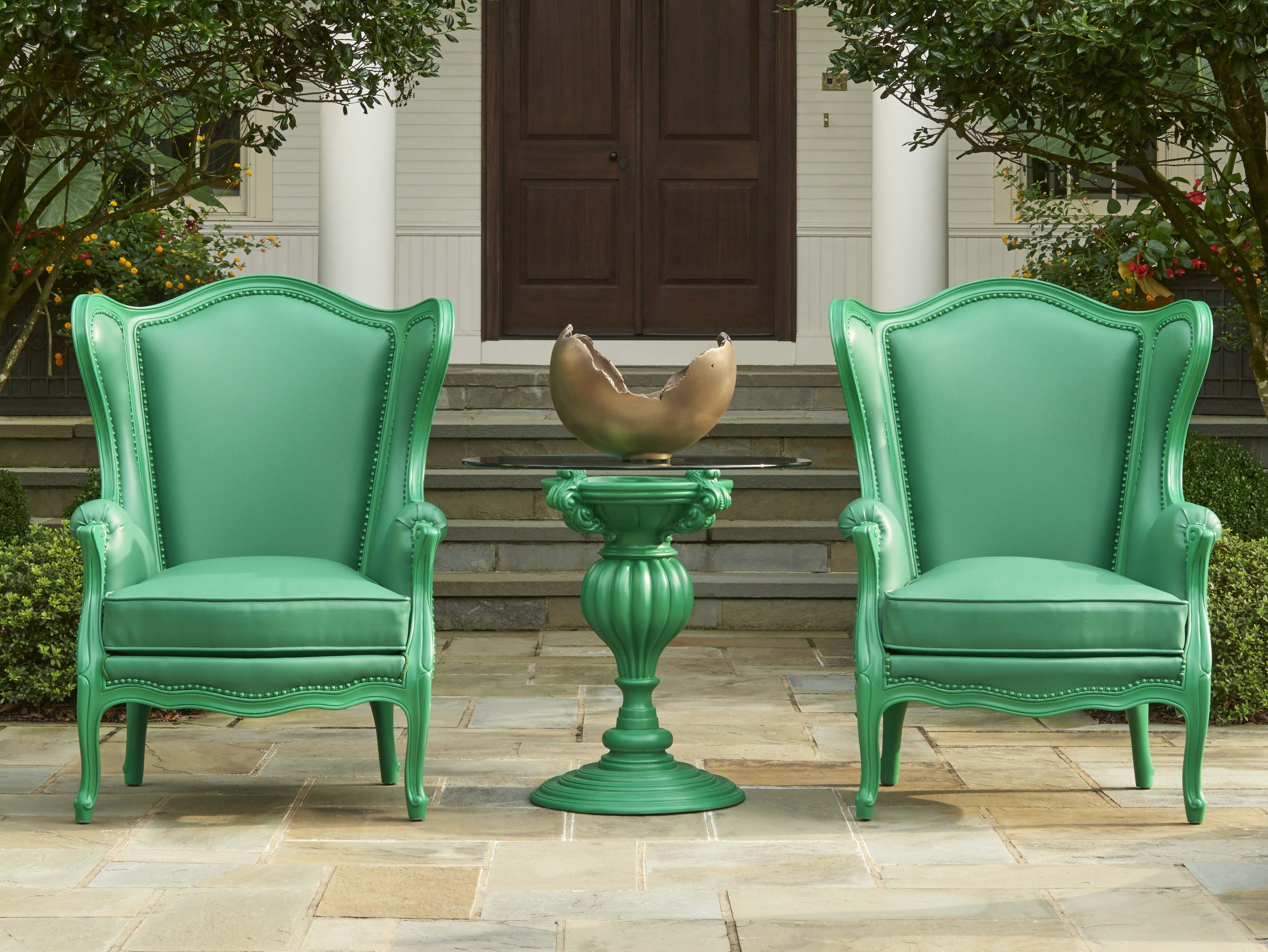 Timeless and modern, dramatic and refined, elegant and majestic – the wingback chair has stood strong on its cabriole legs for hundreds of years. While the original intent of the wingchair in 1720 was to keep the ladies warm from cold drafts, today's patio welcomes the addition of something bolder.
From the classic to the funky, Polart's FAMOUS WING CHAIR is available in multiple color configurations and has been re-envisioned for the exterior room. For strength, each chair features an inner steel structure with a polymer resin injected frame, finished in your choice of colors. This inner frame gives it the strength and durability required to endure outdoor conditions. The finish performs as though its wood in the event of scratching or denting and the resin color is not through and through. All frames are hand sanded and some roughness might appear in some of the frames cavities. This is characteristic of the finish and not to be considered as defective.
The details are well planned for the outdoors and they include discreet drainage holes beneath the seat cushion to allow rain or condensate water to drain off without puddling.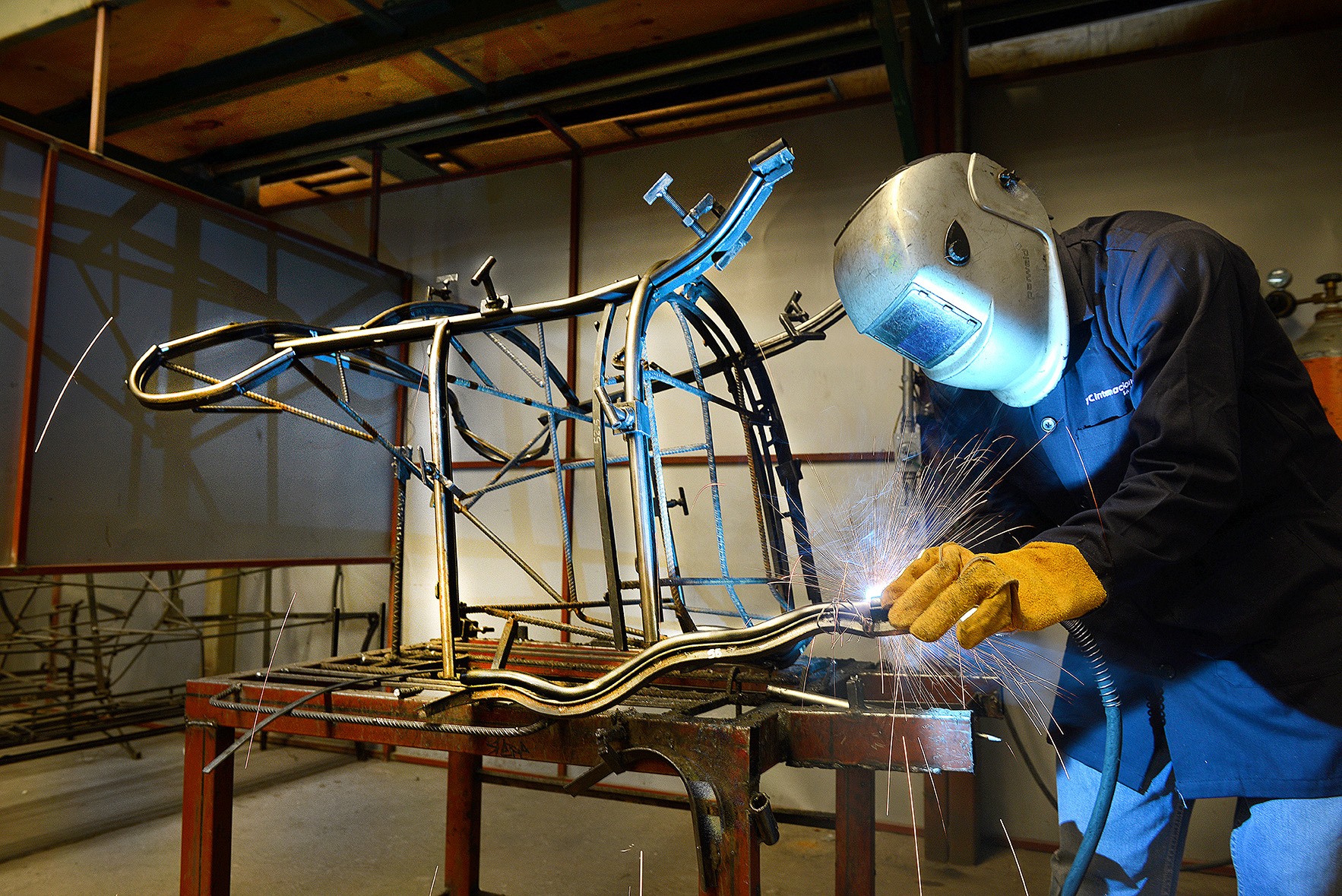 Polart installs anti-microbial foam and liner over high density cushioning to avoid mold, as well as dry fast foam on the cushions. This chair is best finished with an outdoor vinyl material for the exterior use in the colors of your choice. The frame finish is enhanced with acrylic poly to withstand harsh climates. To top it off, each outdoor item comes ready to rock and roll with a cover to protect the unit when not in use.
Fully customizable, each chair is fabricated per order to your finish specifications. Delivery is usually within 8 weeks and shipping can often occur in 4 weeks.
DIMENSIONS:
35" w x 32" d x 47" h (20" seat height)
FRAME & VINYL COLOR SELECTIONS:
Finished is entirely 100% hand made. Variations may appear from lot to lot if additional items are re-ordered at a later date.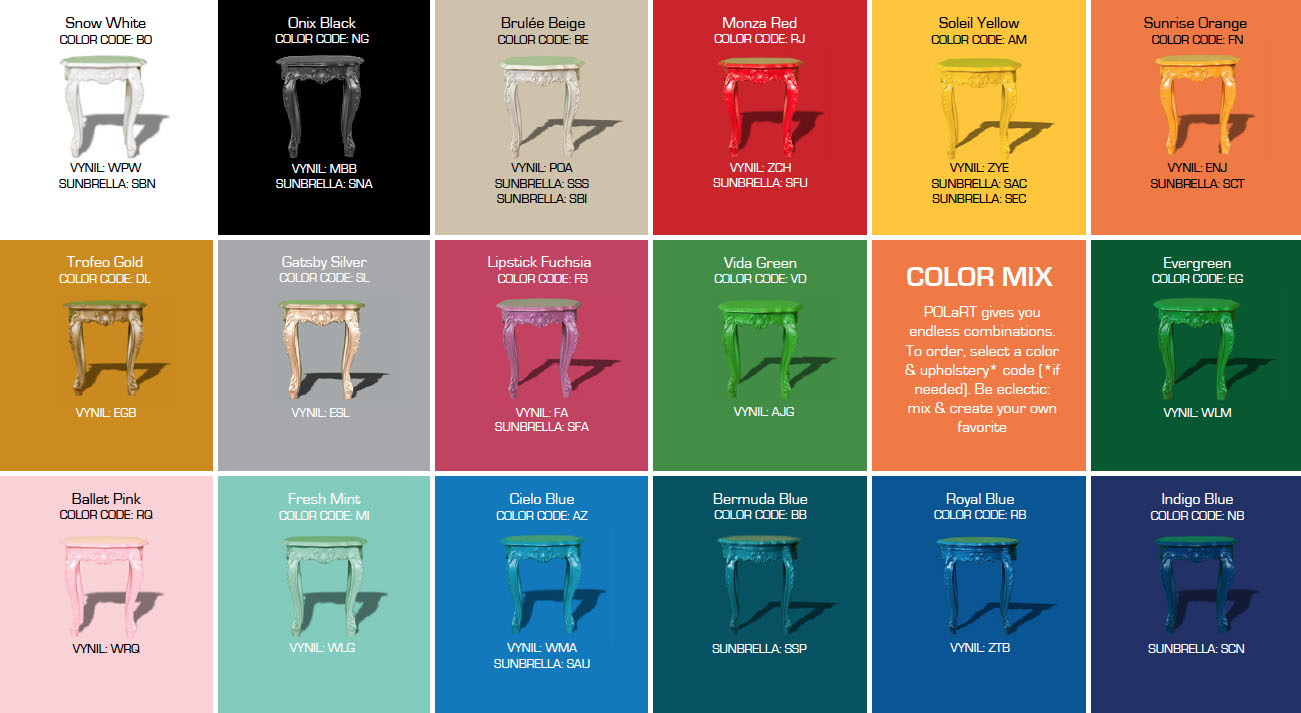 SHIPPING
Shipping is additional on this product - Inquire for freight cost to your destination.
5 Year MFG warranty on the frame (polyurethane) guaranteeing the functionality and quality of the product. Warranty will not apply in the following cases: -Furniture is used in conditions other than for the purpose it was designed -Natural wear of fabrics, vinyl, seams -Present bumps, dents, mistreatments -All items are made to order; no returns or exchanges -Damage during transit must be submitted within 10 day period -Crating of orders is suggested for shipping