The set of 2 Ledge Lounger SIGNATURE CHAIRS allow you to sit upright while in the water and socialize with a high comfortable chair back. Unlike the In-Water Chaise which rests your body in a horizontal position, the Chair sits you upright and offers supreme comfort and functionality. Whether you want to sit on the pool's ledge, deck or even the sandy beach, the chair is the perfect selection. Made with the same high quality resin materials and contemporary aesthetic as the other Ledge Lounger products, the Signature In-Pool Chair will upgrade your poolside experience.
WATER DEPTH:
These Chairs are designed for use in water on ledges from 0 to 9 inches deep. They also work great on the dry deck, or in the sand should you have a beach application.
HOW TO MEASURE YOUR LEDGE DEPTH
Place the starting edge of your ruler on the tanning ledge surface. Where the waterline hits the ruler is your water depth. Always measure when your pool is at ideal water capacity.
4" - 9" = IDEAL DEPTH - The perfect depths for in-water relaxation.

9"+ = Not Recommended without the use of a RISER ADAPTER ACCESSORY

9" - 20" = Riser/Accessory Adapter depths ; Not recommended over 20"
DIMENSIONS:
Designed for up to 9" of water or on dry deck it makes a comfortable chair

Perfect for residential or commercial use

Built to withstand sun, weather, and chemicals of any aquatic environment

Compatible with all pool types, including vinyl

Crafted of an ultra-strong, UV16 rated resin, color stabilized for up to 16,000 hours of direct sun

Excellent lumbar support in seated, upright position

Effortless repositioning

Available in 11 colors *Orange and Red available for outside of pool use only

SNAP SHIP: 5-7 business days: White, Granite, Sandstone, Cloud

Ships within 10-21 business days: Light Blue, Dark Blue, Lime Green, Dark Green, Purple, Tan, Teal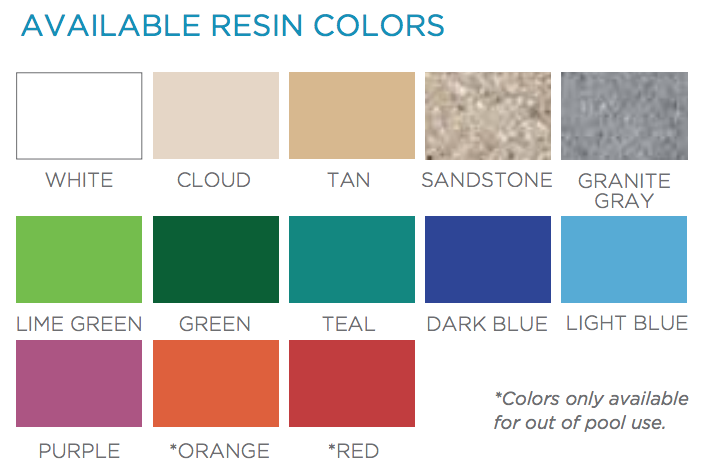 Available Optional Accessories:
Ledge Lounger® products are made to last and are backed by a two-year warranty against defects in material and workmanship. Proof of purchase is required. This warranty applies only to the original owner. This warranty is void if the products are structurally altered or subjected to stress beyond the physical limits of the materials used in body or components, or is damaged as a result of abnormal use. Normal wear and tear is not warranted. This warranty does not include any manufacturer responsibility for any incidental or consequential damages resulting from the use of the products. Here is how to get your Ledge Lounger warranty claim reviewed: 1) Submit a warranty claim by contacting our BOTANIK customer service teams at 713-364-9669 , or by emailing info@shopbotanik.com. Please include your name, invoice number, contact information, pictures and a description of the problem. 2) We will review the claim and repair or replace, at our option, any product determined by Ledge Lounger to be a manufacturer's defect.